CDHA's reports provide information on education, research, and human resources pertaining to the dental hygiene profession.
Educators' Survey Report 2011
Premier Canada wide Educators' Survey covers education policy issues, career supports and demographic profiles. All three sections will interest educators, but the policy section denoting significant evolution in the profession (e.g. scope of practice expansion, areas of specialization, entry-to-practice, and education) will interest all dental hygienists.
Here are the links for the documents:
The Political Economy of Dental Hygiene in Canada
Executive Summary
Oral health care issues have been generally neglected by governments in Canada.
This report unequivocally recommends that provincial governments eliminate regulations that prohibit or inhibit the direct access to dental hygienists by the public. This legislative change would end the monopolistic gatekeeper privileges of dentists.
This reform does not entail any new government funding of oral health care, yet it will have significant and far-reaching impacts such as

Greater access to oral health care for several population groups with worrisome levels of unmet need for oral health services
Lower costs for patients due to the competition resulting from the new regulatory dispensation; studies suggest reductions of about 20 to 40 per cent.
More opportunities for integrating oral health care with other health care services
Substantial increase in the prevention and earlier detection of oral disease, and in oral health promotion
Greater equity in income and opportunity between male- and female-dominated professions
More experimentation and innovation in cost-effective oral health care delivery systems
Greater and genuine freedom of choice for consumers

Limiting the comparison of dentists and dental hygienists to the overlapping scopes of practice of the two professions, the evidence supports the following conclusions:

Dental hygienists are much better educated and trained in their scope of practice than are dentists for the services falling in the dental hygienists' scope of practice.
Dental hygienists provide a high quality of care.
Dental hygienists pose no additional, and possibly lower, risk to patients than dental practices.
Fee levels of independent dental hygienists could be significantly lower and are unlikely to be higher than the same services in dental practices.
The overall costs for patients will be lowered with direct access to dental hygienists.

Dental hygienists should be accorded genuine primary caregiver status for services within their scope of practice. This requires private or public insurance plans to cover their clients for their choice of either dental hygienists' or dentists' services. Insurance plans should treat the two professions fairly and essentially equally.
There is no demonstrable benefit to the public for preserving or strengthening the dental monopoly.
On the contrary, there is much evidence that the dentists' monopoly privileges generate numerous and substantial costs to society. Governments should have to justify how maintaining or strengthening the dentists' privileges serves the public interest better than does the reform proposed in this report.
The proposed reform to permit dental hygienists to initiate care is much more effective than other possible reforms such as enforcing Canada's com-petition policy, extending Medicare to cover oral health care services, or introducing or expanding categorical public insurance plans.
Click here to order your copy within Canada.
Click here for orders outside Canada.
Reports
This chart will help you to understand the differences in DH regulation across Canada—it shows numbers of dental hygienists, liability insurance, NDHCB and clinical exams, types of services performed, mandatory continuing competencies, and mandatory clinical practice hours.
The CDHA Education Agenda explores variables that influence the dental hygiene profession and impact the educational needs of dental hygienists as they strive to promote the oral health of Canadians. This document calls for increased access to bachelor degree programs, complemented by master, doctoral, and post-doctoral studies that allow dental hygienists to use and expand their growing body of knowledge.
This CDHA research document leads the way in building a strong research culture and broadening the knowledge base within the dental hygiene profession. It outlines opportunities for knowledge creation and research capacity building, which will result in the evidence base for high-quality, effective, and efficient dental hygiene services.
This document identifies research topics and guiding principles for dental hygiene research. Recommendations for research are grouped within three main themes: the need to increase research capacity, the importance of transferring knowledge at all levels of research, and the potential to enhance all research activity through collaboration and partnerships.
In 2001, the Canadian Dental Hygienists' Association / L'Association Canadienne des Hygienistes Dentaires (CDHA/ACHD) undertook a study to investigate the deployment of dental hygienists in Canada. Termed the Canadian Dental Hygienist Study: Profile 2001 (Profile 2001), it would provide information essential to planning oral health human resources for the health care system.
CDHA Job Market and Employment Survey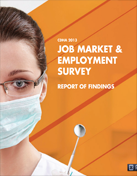 Every two years, CDHA conducts a dental hygiene Job Market & Employment Survey to gauge employment trends in Canada and generate statistics on all aspects of the profession.
The survey is sent to dental hygienists across the country. It includes questions about salary rates, employment benefits, workplace injuries, and practice environment.
Whether you are interviewing for a new job, negotiating an employment contract or preparing for your first job interview, the CDHA Job Market and Employment Survey is a valuable source of information.
CDHA Job Market and Employment Survey 2013
Whether you are interviewing for a new job or renegotiating your current employment contract, the CDHA Job Market and Employment Survey is a must read.
Key highlights:
Average hourly wage of dental hygienists has risen since the 2011 survey
92% of dental hygienists work in clinical dental hygiene and 72% work for a single employer
Challenges We Face:
Canada-wide unemployment rate for dental hygienists is 3.5%, approximately one-half of the national average
Younger, less experienced dental hygienists are more likely to report an hourly salary increase
67% of dental hygienists have no written contracts with employers, however this is a 6% improvement over 2011
The Future:
Two-thirds of dental hygienists in independent practice reported high levels of satisfaction with this career choice
86% respondents plan to practice 2 or more years in the profession
Executive summary, Full Report Data and Reports by Province are available free to CDHA members.Interested non-members may purchase for a fee of $99.
Note: Government agencies or public organizations may request a copy of the report by contacting info@cdha.ca.
To encourage participation in the survey, gift cards were offered as incentives. The following dental hygienists are our winners:
National winner – Dalia Petrulis
New Brunswick – Anne Caissie
Manitoba – Monica Groth
PEI – Amber Mason
British Columbia - Darlene Sissau