Communicating with Older Adult Clients About Abuse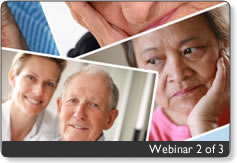 Wednesday, 20 April 2011
8:00 – 9:00 p.m. ET

Presenters:
Alison Leaney
April Struthers

Moderator:
Brenda Leggett
Summary
If you encounter an older adult client whom you suspect is being abused, you can offer support, gain further information, and decide with your client what the next steps should be. The issue of abuse is a sensitive one. There are safety needs and a need to maintain confidentiality and ethics; as well as to maintain dignity for your client and to become aware of their wishes. This webinar outlines approaches and communication tips to ensure your conversations are safe, respectful and effective. You will be led through a role play that demonstrates how to achieve these aspects of the encounter as you communicate with your older adult client.
This webinar is the second in a series of three webinars on Elder Abuse.
Presenters
Alison Leaney, MSW, RSW

Alison Leaney is the National Project Coordinator for the Elder Abuse Theme Team's Knowledge to Action Project, of the National Initiative for the Care of the Elderly (NICE). Her role is to put evidence based tools in the hands of senior abuse responders. As a social worker, Alison has more than 15 years experience in the senior abuse field.
She is a former Chair of the Canadian Network for the Prevention of Elder Abuse (CNPEA) and is one of two finalists for the Premier's Innovation and Excellence Legacy Award for the collaborative provincial approach she led at the Public Guardian and Trustee of BC and the BC Association of Community Response Networks to address adult abuse/neglect.
April Struthers, BA, MEd., RCC

April Struthers is an organizational consultant with clinical qualifications and a practice that ranges from BC to the UK. She works across sectors to develop anti-abusive workplaces and communities. April has an interest in prevention research generally and in developing approaches which are culturally safe for fist nations and aboriginal communities. She often works at the strategic level in the field of prevention of elder abuse has done national scans of activities in the field and authored a national strategy to combat abuse of older adults.
Moderator
Brenda Leggett, RDH, Dip DH, BA

Brenda Leggett has over twenty years of experience as a dental hygiene educator at Georgian College and Algonquin College. She has practised in community health as a dental hygiene administrator, and remains active as a clinical dental hygienist in private practice. For ten years, she has participated as an item writer for the National Dental Hygiene Certification Examination, and presently represents the central region of Canada on the National Dental Hygiene Certification Board's Examination Committee.
In addition, Brenda is a College of Dental Hygienists of Ontario (CDHO) representative on the Commission on Dental Accreditation of Canada site-visit teams. Brenda is currently the Information Coordinator at CDHA. She is a dental hygiene graduate of John Abbott College, holds an interdisciplinary BA in labour studies from Carleton University, and a library and information technician diploma from Algonquin College.
CANCELLATION POLICY: Please note that webinar registration fees are non-refundable and non-transferable